Preserving valuable letterpress printing that had supported the printing culture
ORGAN Letterpress Printing Room Ms. Kafumi Naono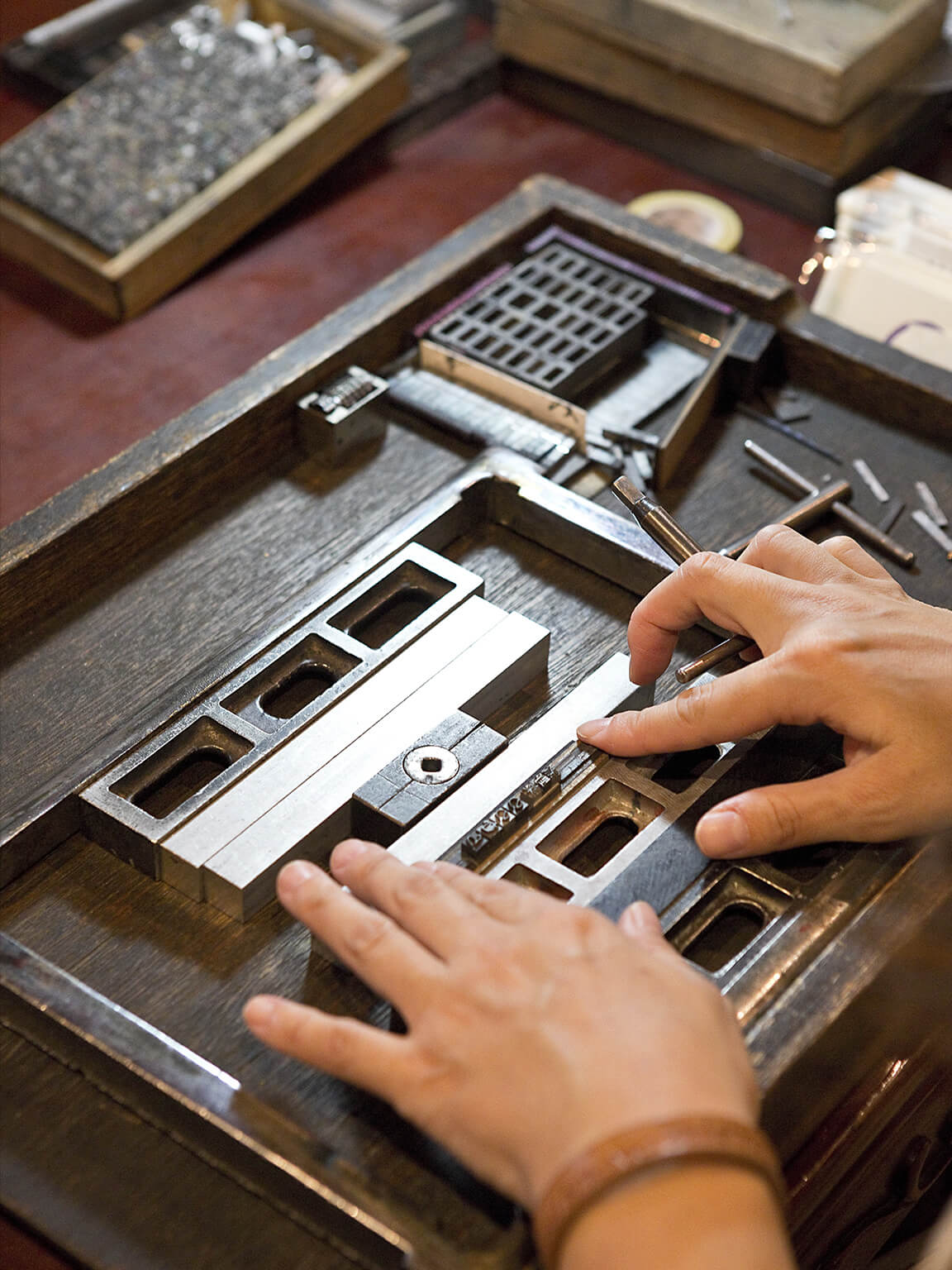 I was a total beginner, but I have been doing this for 10 years
Gifu's Handcraft Artisan House CASA has a printing room. It is called ORGAN Letterpress Printing Room. Ms. Naono works there. She is a younger sister of Mr. Kaba who is the Director of ORGAN, an incorporated nonprofit organization. Since Mr. Kaba has a design office, a set of letterpress printing machine was offered to him by his acquaintance whose printing shop was closing down.
Ms. Naono says, "I was asked if I would like to work in the letterpress printing room within ORGAN. I didn't have any knowledge of printing or design, let alone letterpress printing. Various people taught me, and I started simply by copying them. At the beginning, I had only one or two assignments a day, so I could take my time to work on them.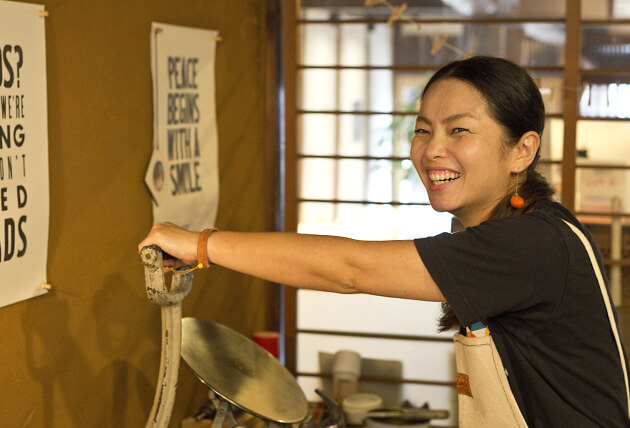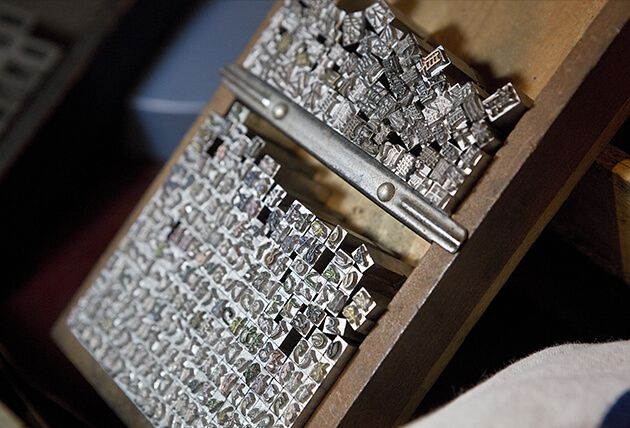 Just like old times, she composes small cast metal type pieces
I would like to ride the trend of letterpress printing
Currently, she creates mainly business cards, but also other items such as greeting cards and bookmarks.
"Letterpress printing is suitable with washi – traditional Japanese paper. Therefore, we use mostly Mino washi for business cards. It makes a unique impression when you receive them. Also, invitations made out of Mino washi feel special."
In addition to such custom-made work, she produces miscellaneous goods. For example, letter sets, small cards, and paper earrings with typed words. Paper earrings are popular among women at events such as Tokyo Flea Market.
"During the recent event, I sold them so fast. Therefore, in the middle of the event I had to make more and to sell them at the same time. They are inexpensive, because they are made of paper. So, people buy them gladly."
She also makes accessories by stacking eight layers of Mino washi. With these accessories, the charm of washi and letterpress printing is expressed well. She doesn't even need to apply wax or varnish on them.
"Letterpress printing is very popular now, especially among young people. I think that it is accepted as art, rather than just a kind of printing. I would like to ride the trend."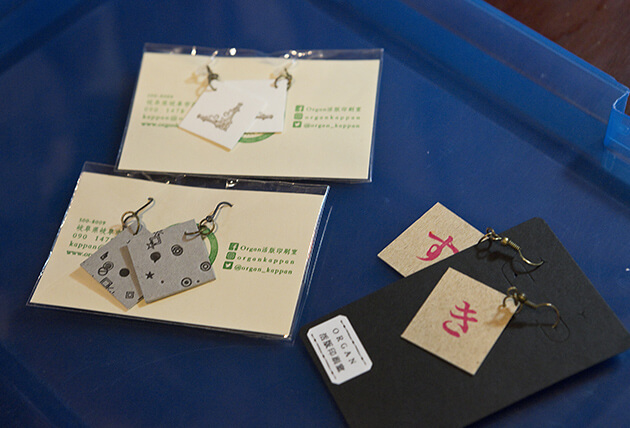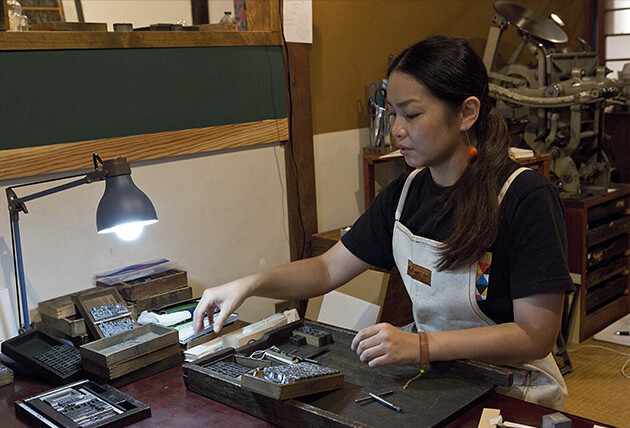 Accessories with letterpress printing are popular, too
Letterpress printing is also popular as Workshops
The ORGAN Letterpress Printing Room also holds workshops. 80% of the participants are women, and most of them are in their 30's and 40's. Participants can try the hand at all stages, from designing to printing.
"Everyone is surprised to hear that newspapers and magazines used to be printed with letterpress technique in the past. They learn how difficult it is to compose small metal letters."
The heyday of letterpress printing was decades ago. Now there are no craftsperson who make cast metal type pieces. However, since the printing machine in the ORGAN Letterpress Printing Room is a simple machine with no electric part, it doesn't break down. There is almost no need for maintenance.
"The reason we set up a booth at events is because we want to connect to other artists and craftspeople and because we can raise awareness of letterpress printing, which had supported the printing culture in Japan. I want young people to know more about its charm."
The trend of letterpress printing is more than just nostalgia. Letterpress printing can convey things that digital printing is unable to do so. The shadows of letters and the texture of paper touch our senses. Mino washi is perfect for letterpress printing. The paper accessories are innovative. We are confident that ORGAN Letterpress Printing Room will continue to produce unique and heart-warming printed items.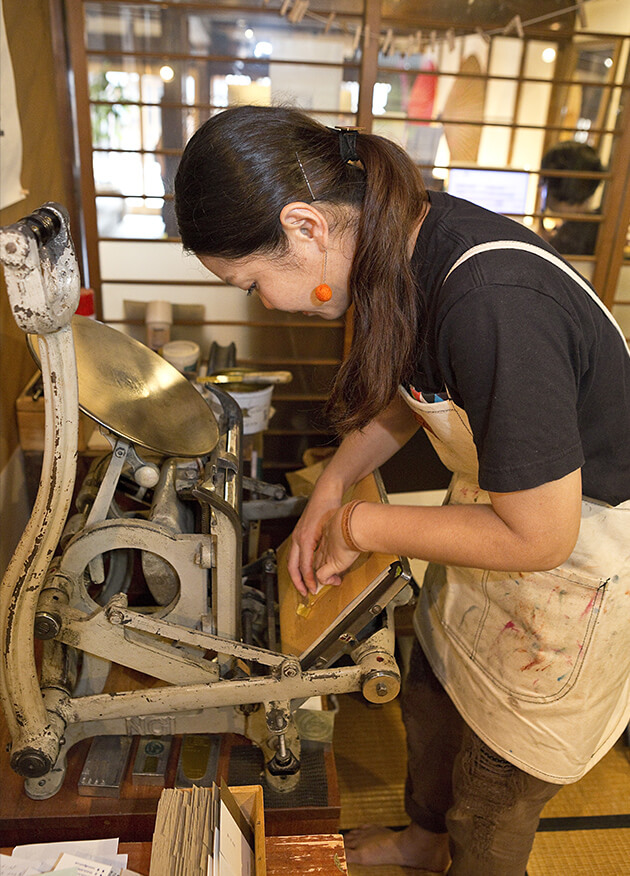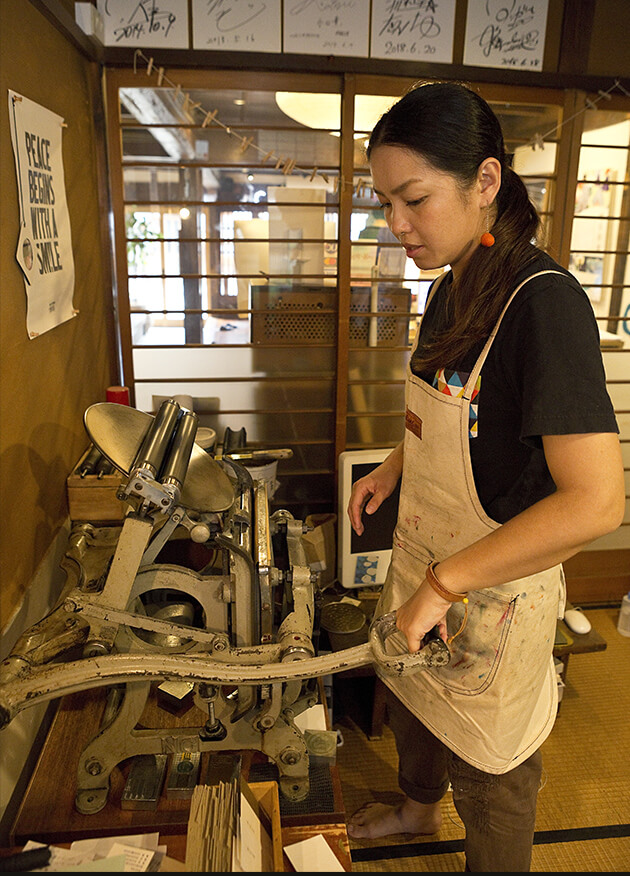 Blind embossing on a card
---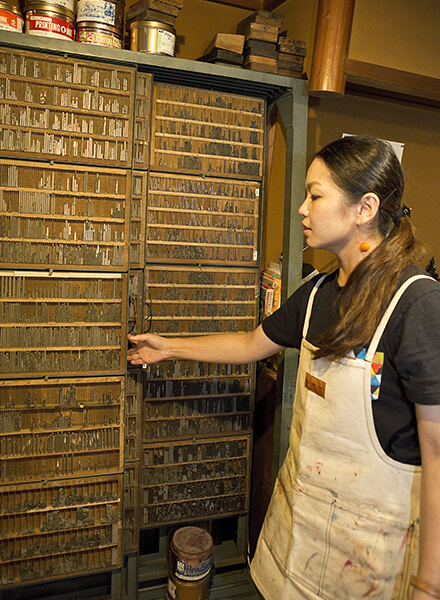 ORGAN Letterpress Printing Room
In Gifu's Handcraft Artisan House CASA there is a Letterpress Printing Room. It was established when they were given equipment, including metal type pieces and letterpress printing machine, from a paper wholesaler who closed his business. They also hold workshops to pass on to future generations the valuable experience of letterpress printing.
この記事を