Gaining insights from papermaking
Sanjigami Washi Mr. Makoto Okuno and Mrs. Kayo Okuno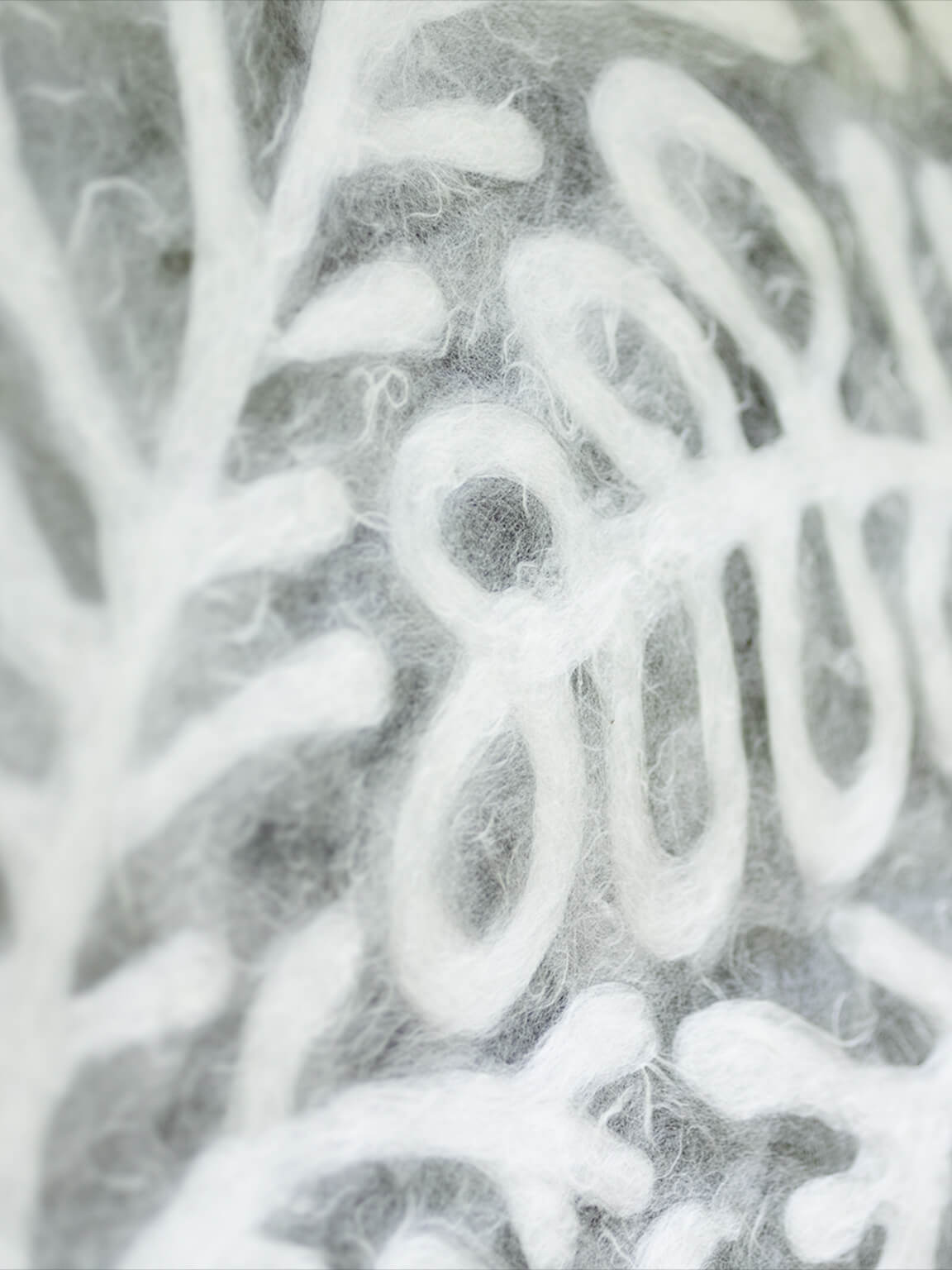 Mr. Okuno places a block of old washi—traditional Japanese paper—in front of me. The surface of the paper is rough, and it looks like a sturdy paper bag.
He explains, "This is Sanjigami washi made at the beginning of the Showa Era, about 90 years ago. Back then, plastic bags didn't exist; they used this kind of paper bag to keep shiitake mushrooms or tea leaves in. Which means that they used Sanjigami washi in their everyday life. All over Japan, there must have been simple washi like this, which was a staple in their daily life."
At their papermaking workshop, Mr. and Mrs. Okuno first of all remind us that toilet paper and washi are both kinds of paper. They want their students to recognize that paper is something close to us; it's in our daily lives. They don't want washi to be treated as something far removed from life. Mr. Okuno explains further that, if paper had not been invented, our civilization wouldn't be as developed as it is now. And, he adds, 2000 years ago, paper was an advanced technology.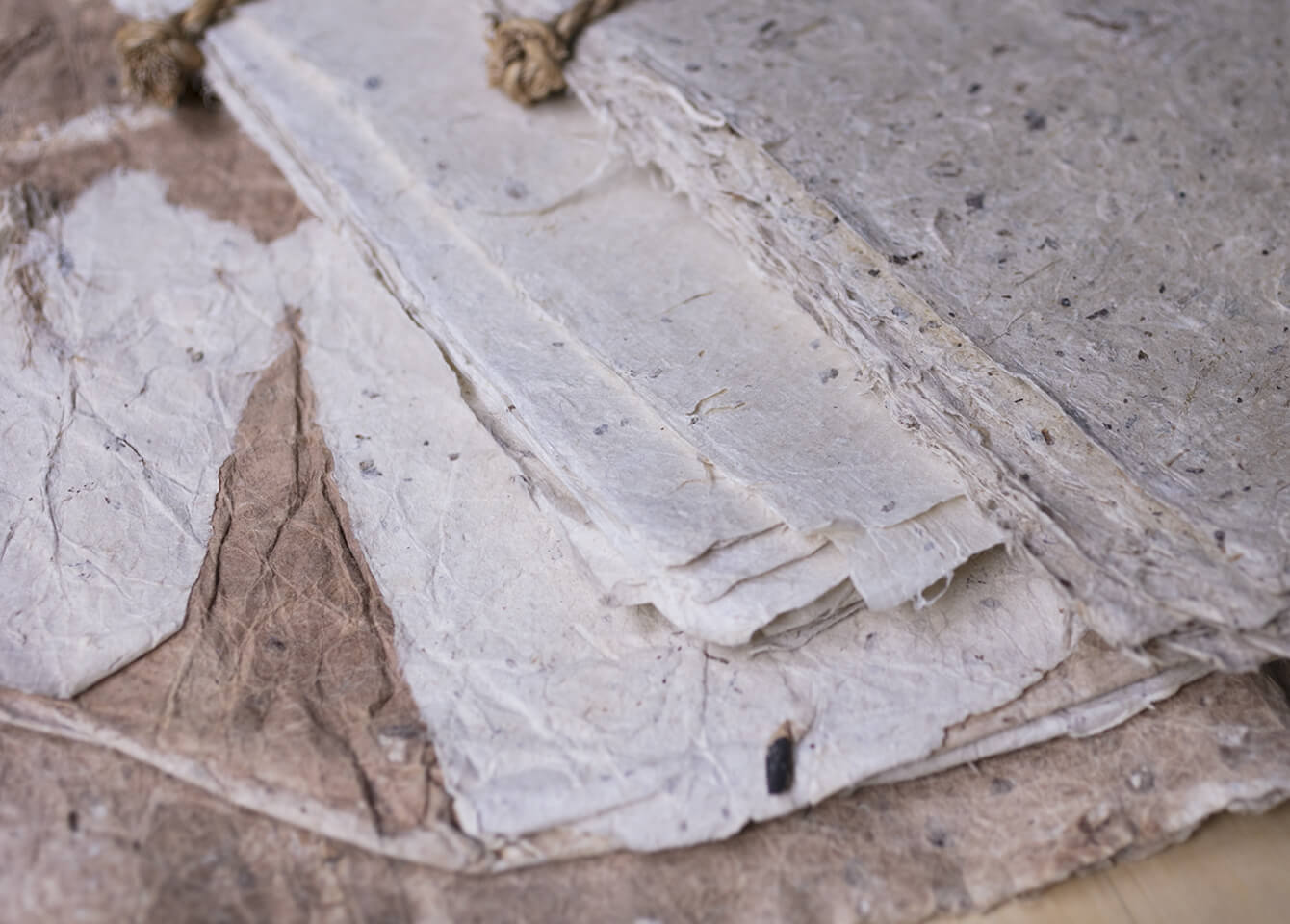 Moving to Ryujin Village
Mr. and Mrs. Okuno lived in Osaka. They have always been artists: painters and sculptors. 35 years ago, Ryujin Art Village was founded, with the aim of revitalizing the community through art. Mr. and Mrs. Okuno were interested in the village and its project. The first mayor of the Art Village visited Mrs. Okuno's exhibition, and he invited the couple to move there.
"At that time, my wife and I were teaching at college and high school. But we had been planning to quit teaching in order to dedicate ourselves to artistic activities. That was when we were invited to move to the Art Village. So we accepted it right away."
Back then, although revitalizing a local community was still not a common idea, Mrs. Okuno had already imagined herself creating artwork, and raising children in an art village. When the couple started living in Ryujin Art Village—where an abandoned school building was made available for their artistic activities—they were just in their 30s.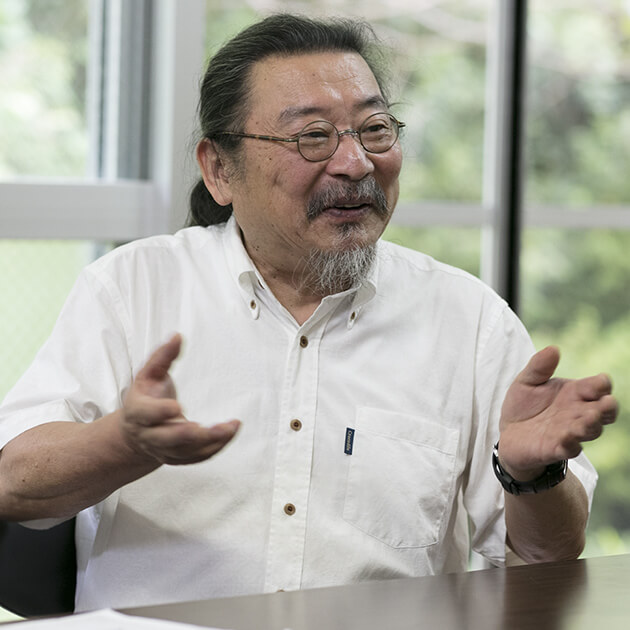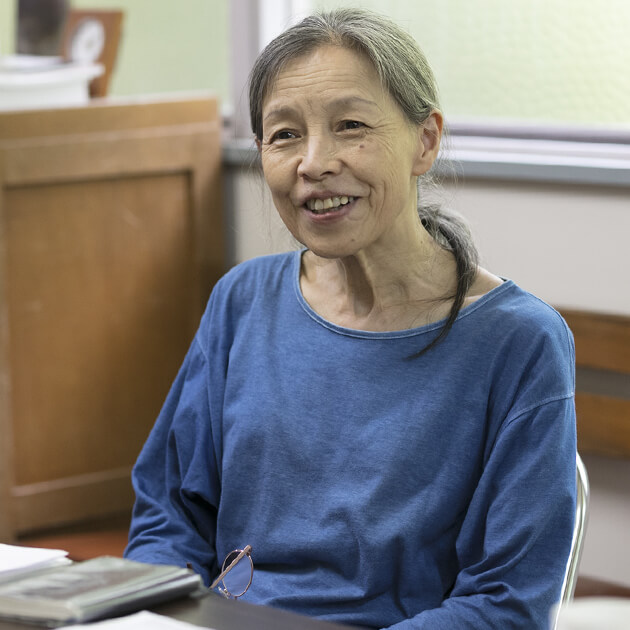 A chance encounter with Sanjigami washi
"I thought about what we could do for the village, which was aiming to revitalize itself through artistic activities. As I studied the village history, I realized that in the past the villagers had made washi."
Mr. and Mrs. Okuno thought that bringing that former village culture back to life, and inheriting it, could become a part of the project to revitalize the village. Mrs. Okuno went out to ask locals about papermaking.
"I was always interested in washi-making. But unfortunately, none of the papermaking tools had been preserved in the village. Local people looked puzzled, asking me why I was looking for such old things."
Mr. Okuno found out that up the Hidaka River they still cultivate kozo—paper mulberry. The couple thought that, since there were no papermaking tools left, they could make them by themselves. Forestry was a major industry in the village, so wood and woodworking tools were available. They went to see papermaking tools in other towns such as Yoshino in Nara (famous for Yoshino paper) and Aridagawa (famous for Yasudagami paper), and then created the tools on their own. Thus, they managed to prepare paper ingredients and papermaking tools. Their next step was to learn to make paper. They roughly knew the procedure, but they didn't know details such as how to work on kozo. Fortunately, they did happen to know a washi artisan in a woodworking workshop.
Thanks to their efforts, Sanjigami washi was reborn. These days, the couple teach children how to make washi in the painting class. They have also opened a workshop to teach local children to make their own washi for graduation certificates of elementary and middle schools. They work tirelessly on their own artwork, too. Mrs. Okuno uses plants to make dye for her washi, and it has natural and vivid colors.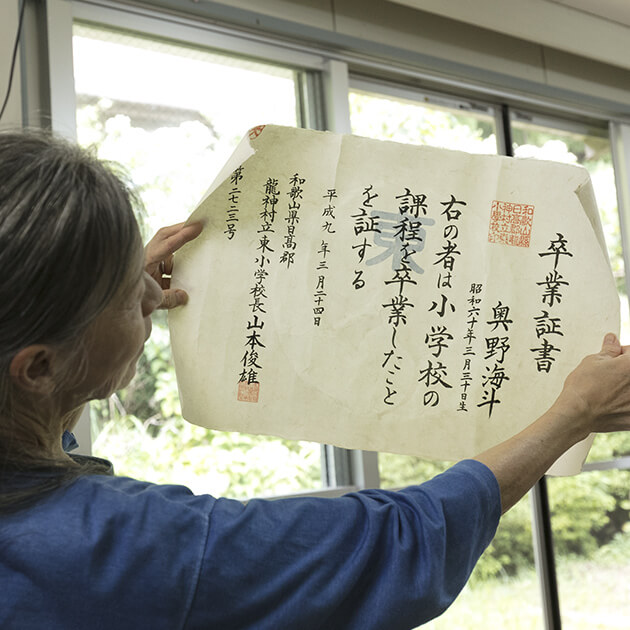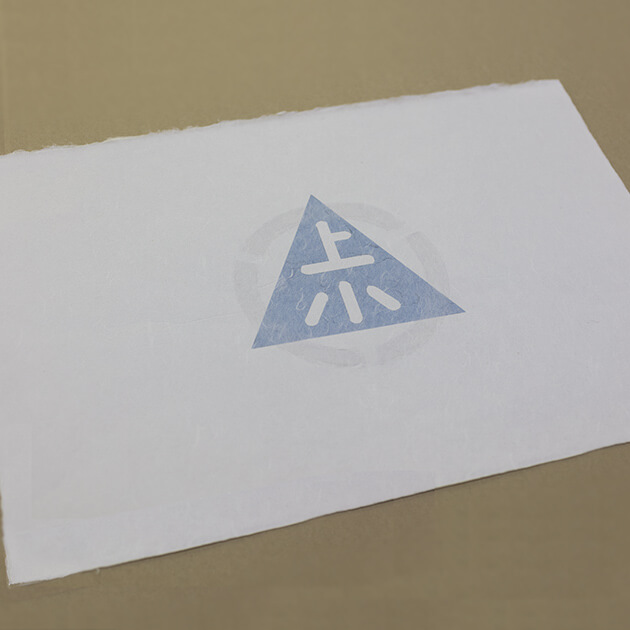 Graduation certificates made with indigo-dyed paper
"After harvesting kozo, we peel its bark, steam it, rinse it, then beat the fiber, dissolve it, and finally layer it into a wooden frame. A sheet of washi is an artwork built from the layers of all of our expressions throughout the stages of its making. I am really into it. It feels as though the beautiful washi has been made by my soul."
Mr. Okuno says that papermaking has been their artistic expression for thirty years. Washi-making truly inspired him.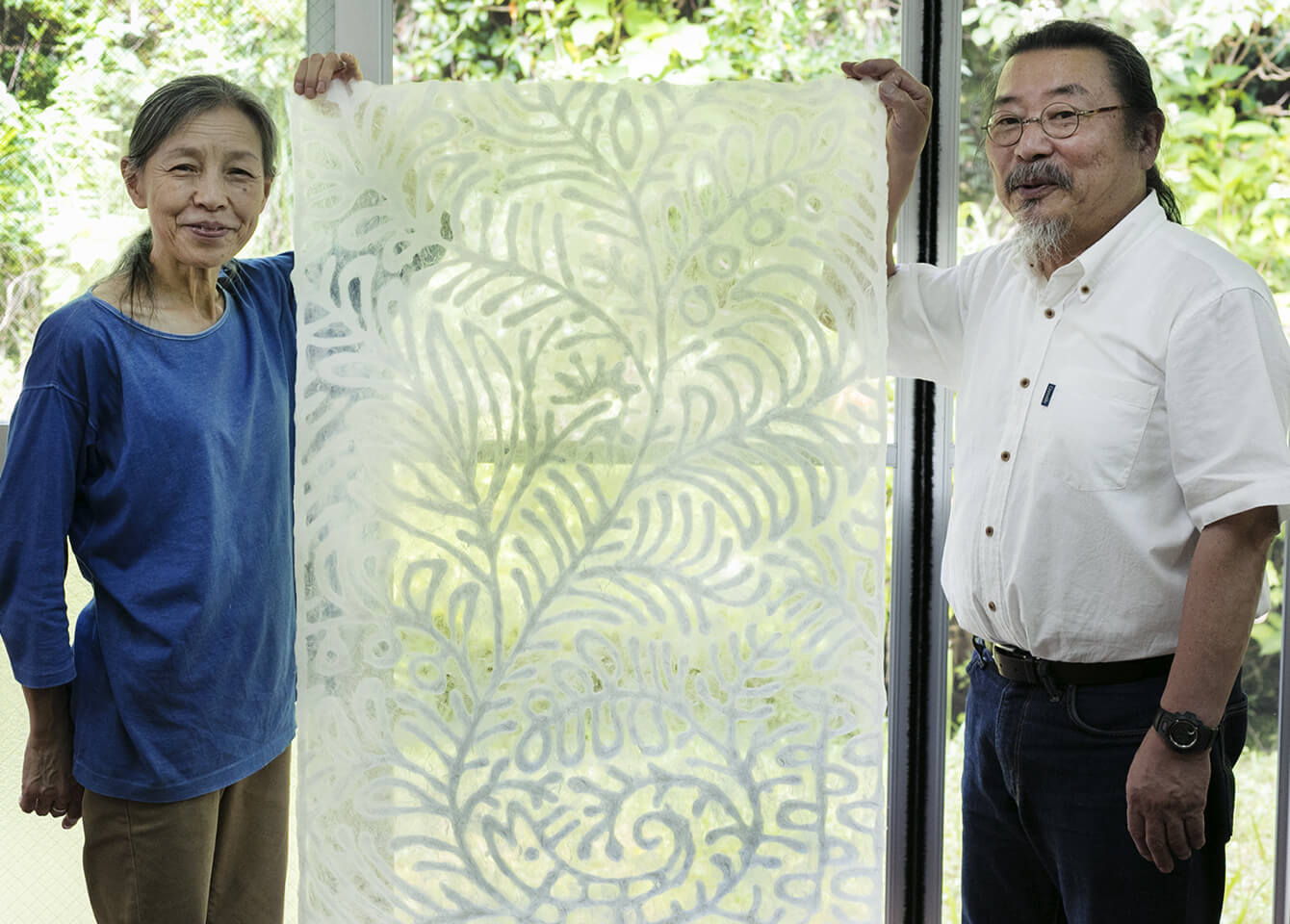 Washi-making and awareness
Mr. Okuno says, "Washi-making made me aware of many things." It has made them more aware of the environmental issues related to resources, of the world economy that destroys Nature, of the culture that came from continental Asia, and so on. They became aware of things they hadn't otherwise thought carefully about. Washi-making has been a great teaching journey for them.
Mrs. Okuno says, "There are things that we must hand down to the next generation." Not only Sanjigami washi and its papermaking, but she'd also like to pass on the importance of forming recycling-based societies, the nature and culture of small villages in the mountain, and the importance of seeing the value in ourselves and our world.
They are engaged in the local community, but they also dedicate themselves tirelessly to creative activities such as exhibiting their artwork in exhibitions in Japan and overseas.
A fire ravaged the original Ryujin Art Village. But they rebuilt the village and developed it further by establishing Sanjigami Atelier, a woodworking factory with a gallery called G Works, nine houses with ateliers, and other developments. Mr. and Mrs. Okuno worked hard to revitalize the village with their artistic activities, which will be bestowed to future generations.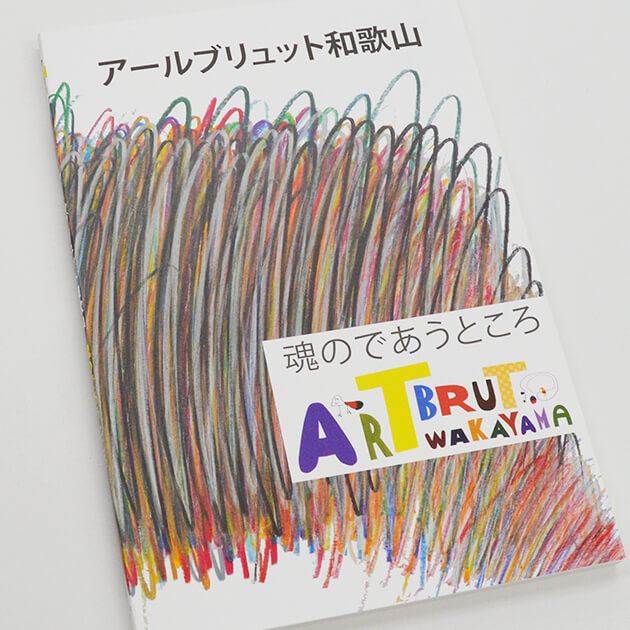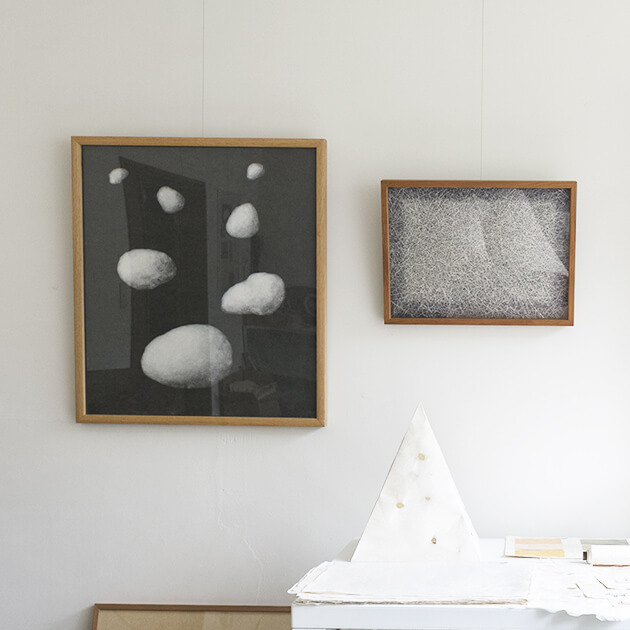 ---
Mr. Makoto Okuno & Mrs. Kayo Okuno
Both majored in oil painting at the Art and Design Faculty, Musashino Art University. Having gained experience as teachers (Mr. Okuno in an art school, and Mrs Okuno in a high school), they moved to Ryujin Village. They revived Sanjigami washi there. In 2016, Mr. Okuno was recognized as a master craftsman of Wakayama Prefecture. And in 2018, they held an exhibition at a gallery in Shanghai, and they are now attracting attention internationally.
---
Sanjigami Papermaking Atelier
269-1 Yasui, Ryujinmura, Tanabeshi, Wakayama 645-0414, Japan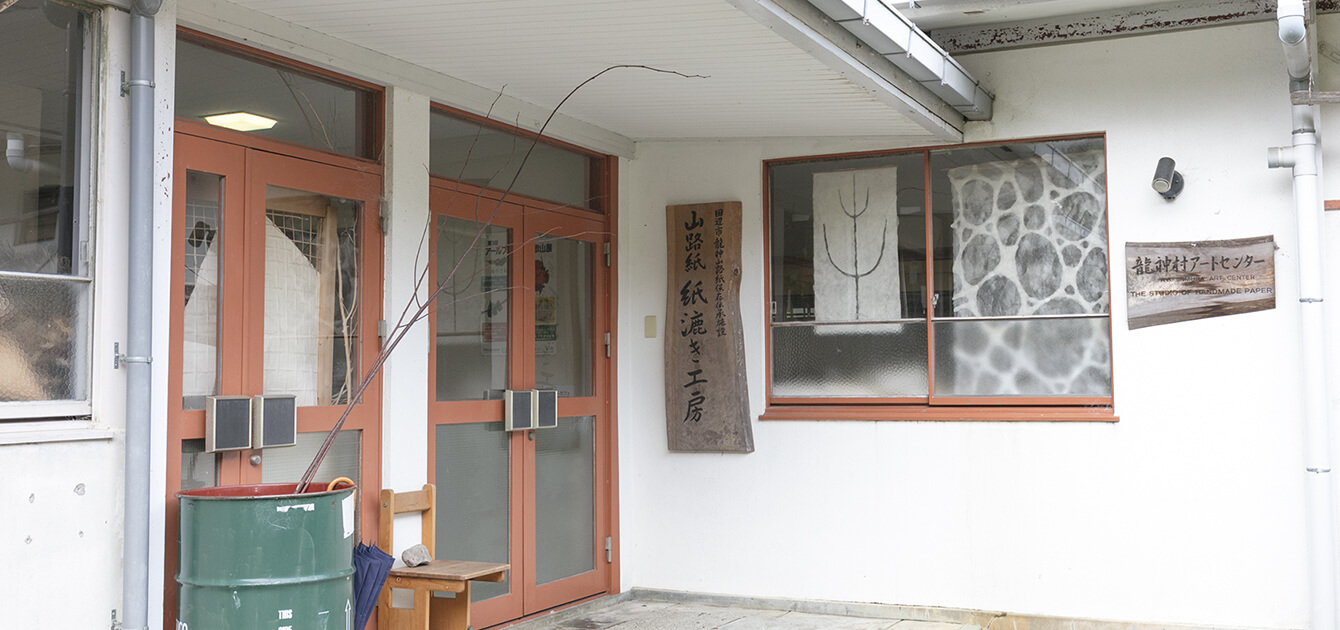 この記事を