A story of Japanese umbrellas on colorful display in a 120-year-old traditional townhouse known as a machiya
Gifu's Handcraft Artisan House CASA Ms. Ikumi Kawaguchi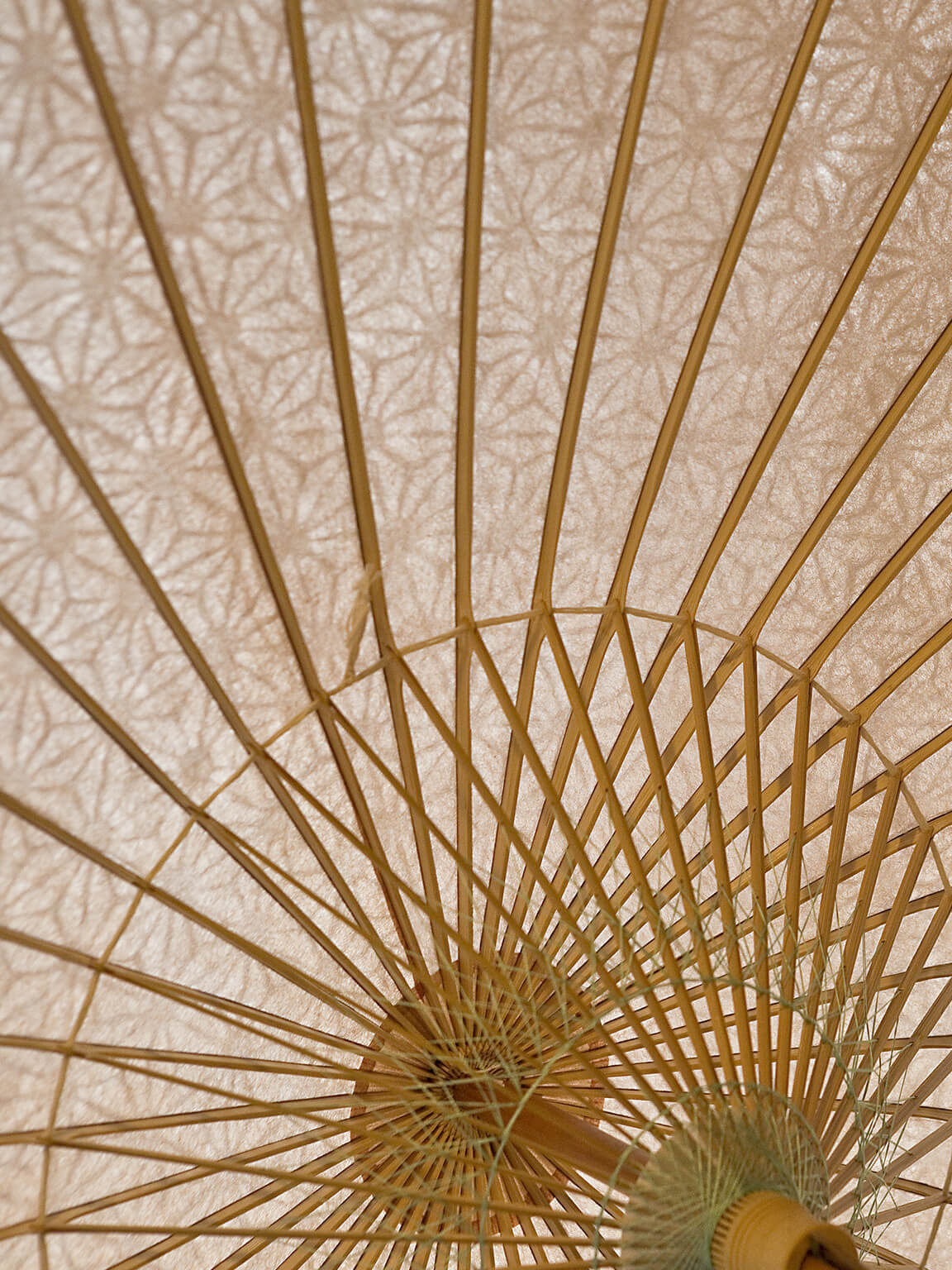 How wagasa (traditional Japanese paper umbrellas) caught the attention of a city development non-profit organization
In late July, the Nagara River—where the town of Minatomachi is situated—is bustling with tourists who've traveled to watch the traditional cormorant fishing. Near the boat landing in Minatomachi is Gifu's Handcraft Artisan House CASA (which we'll call CASA for short). Tourists wander the streets of Minatomachi's old town; an area that's been beautifully maintained.
The shop manager, Ms. Kawaguchi, told us, "We opened the Nagaragawa Department Store on this street about three years ago. There we sell wagasa along with other handicrafts produced near the Nagara River. However, the more we learned about wagasa, the more concerned we became that the tradition was in a crisis. Surprisingly, most people don't even know that Gifu used to be the largest production center of wagasa in Japan. So last year we renovated a machiya townhouse, and founded CASA, which sells only wagasa."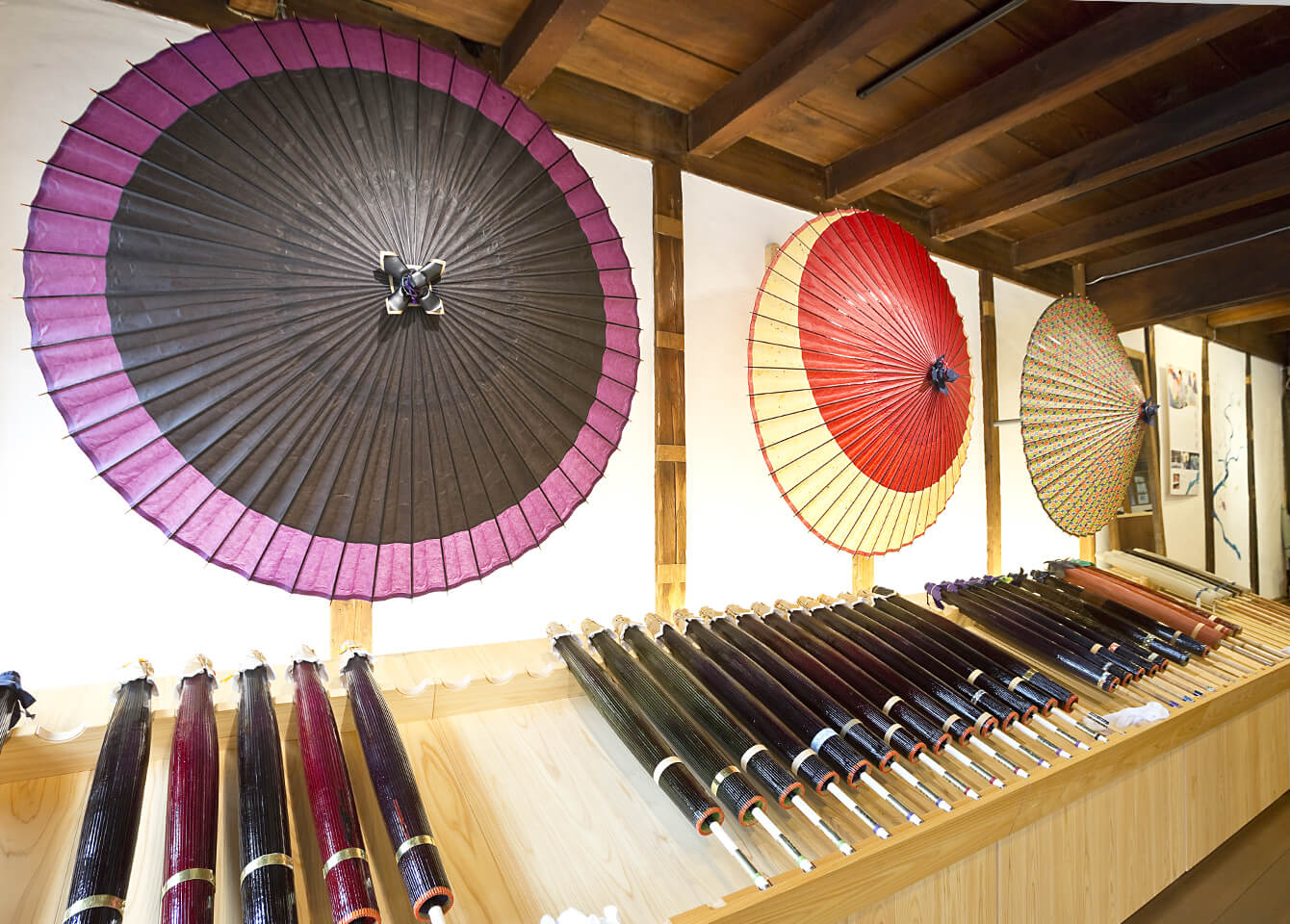 Gifu as a center of traditional handicrafts
"There was an abundance of bamboo in the Nagara River basin," said Ms. Kawaguchi. "For that reason, bamboo plays an important role for Gifu's handicrafts, such as wagasa, chochin (paper lanterns), and fans. And Mino washi paper, which arrived by boat, also played an important part. Because of Nagara River, Gifu became a center of handicrafts."
Mino washi paper met bamboo, and wagasa was born. However, it wasn't a coincidence: the Kano clan in the Kano district of Gifu City encouraged the production of wagasa. It's even said that low-ranking samurai worked on making umbrellas as a side job. The image of out-of-work samurai making umbrellas at the back of the house might sound like something out of a drama today, but it was in fact a reality.
"In the mid 1950s, everyone living in the Kano district was involved in making wagasa," said Ms. Kawaguchi. "All over Kano district you could see batches of about 500 umbrellas drying together in the sun. That used to be a typical scene in Kano, but nowadays you see at most 20 to 30 umbrellas drying together in the sun."
There used to be 600 wagasa wholesalers, but now there are only three. Some have become independent wagasa craftspeople from there.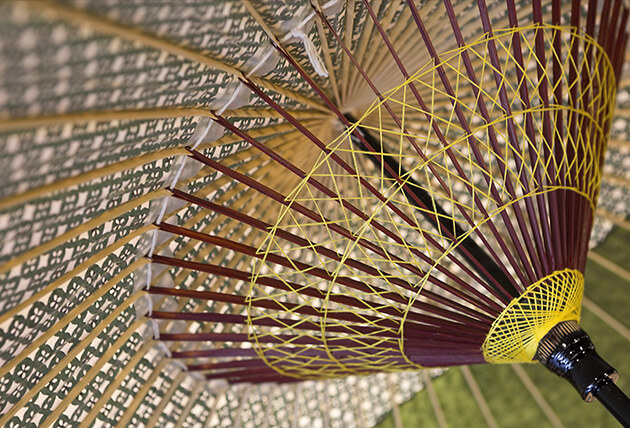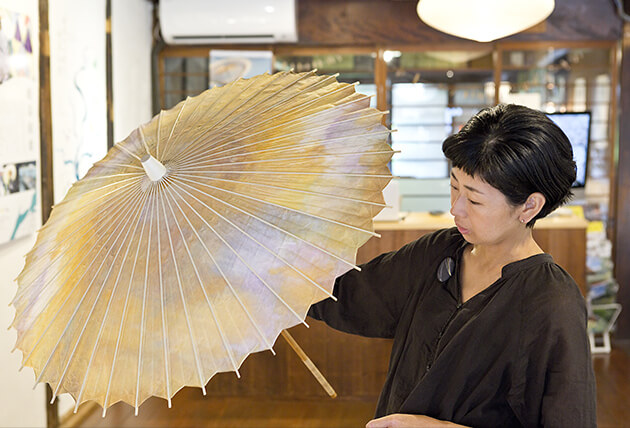 You discover the beauty and refinement of a wagasa when you open one
Is it really mostly men who buy wagasa!?
Although CASA opened only about a year ago, the number of customers is steadily increasing, thanks to various media such as local TV stations. Customers come from all over Japan, including Kansai and Kanto area.
Ms. Kawaguchi said, "Customers come to our shop after finding it on the internet. They don't just drop in for a visit, though; they come with the intention to buy. And I estimate that 70% of our customers are men."
Some male customers are interested in using the wagasa themselves, while others want them as gifts for women. When couples come to the store, the men look at the umbrellas minutely, while the women just look at them from a distance. Customers buy the wagasa not only for practical use, but also for interior decoration.
"Among overseas customers, it's Europeans who love and buy wagasa the most. Especially Italians and Spaniards. So, in interviews we're often asked whether foreigners appreciate them more, but in fact that's not the case. Japanese people appreciate them the most."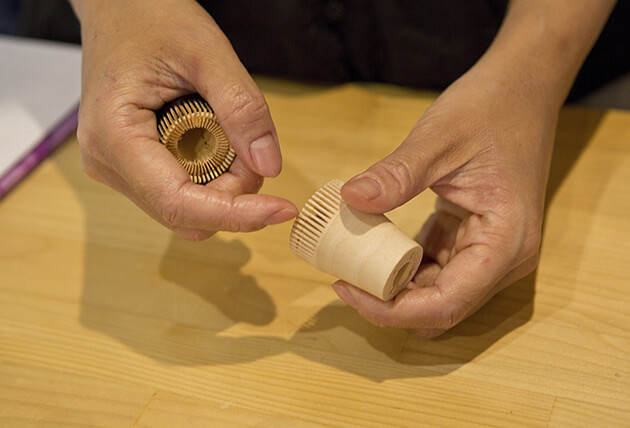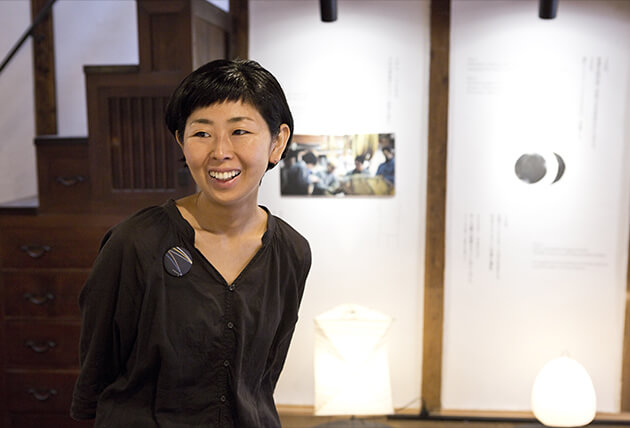 The rings with many incisions are made from the wood of egonoki trees in the Nagara River basin
Aspiring to a Gifu Wagasa brand; and fostering apprentices
Wagasa are rarely sold in Gifu where they are produced, but rather sold wholesale. They are sent directly to wholesalers in Tokyo and Kyoto.
Ms. Kawaguchi said, "Gifu has never been well-known for producing wagasa. For instance, there is a brand called Gifu Chochin for traditional Japanese lamps, but there is no such brand as Gifu Wagasa. To make matters worse, since wagasa used to be produced by a kind of assembly line, there are currently only two craftspeople who know all the procedures. Those include everything from purchasing ingredients (for shanks, ribs, rings, handles, and so on) to making wagasa as a finished product. Moreover, those remaining craftspeople, who make such refined parts, have no apprentices to come after them."
Therefore, wagasa wholesalers are now establishing a new cooperative to protect wagasa production; and to train apprentices in earnest.
"If wagasa disappears from regular life, then that won't cause much trouble. But there's also traditional Japanese arts. What if wagasa disappears from traditional Japanese performing arts such as kabuki, buyou (Japanese dance), nodate (open-air tea ceremony)? Or from maiko and geisha? And from traditional Japanese architecture such as shrines and temples?"
So, in a sense, vanishing wagasa means that Japanese culture is in something of a crisis. It seems clear that the situation around wagasa needs to be improved. That is why CASA is committed to promoting the charm of wagasa, championing the preservation of its tradition, and fostering apprentices.
Ms. Kawaguchi concluded, "We would like the craftspeople to concentrate on making wagasa, and we will try to do our best in marketing and sales."
---
長良川てしごと町家CASA
築120年の町家にある全国で唯一の岐阜和傘専門店。蛇の目傘、番傘、日傘と常時100本近く取り揃えており、日本の和傘の8割を作る岐阜の地で和傘の文化継承や後継者育成を図っている。同じ町家内には、ORGAN活版印刷室や写真撮影のスタジオ、提灯のショールーム、ワークショップ用のスペースなどがある。
岐阜市湊町29
Tel:090-8335-9759(和傘CASA)
定休日:11:00~18:00  火曜・水曜定休
https://www.teshigoto.casa/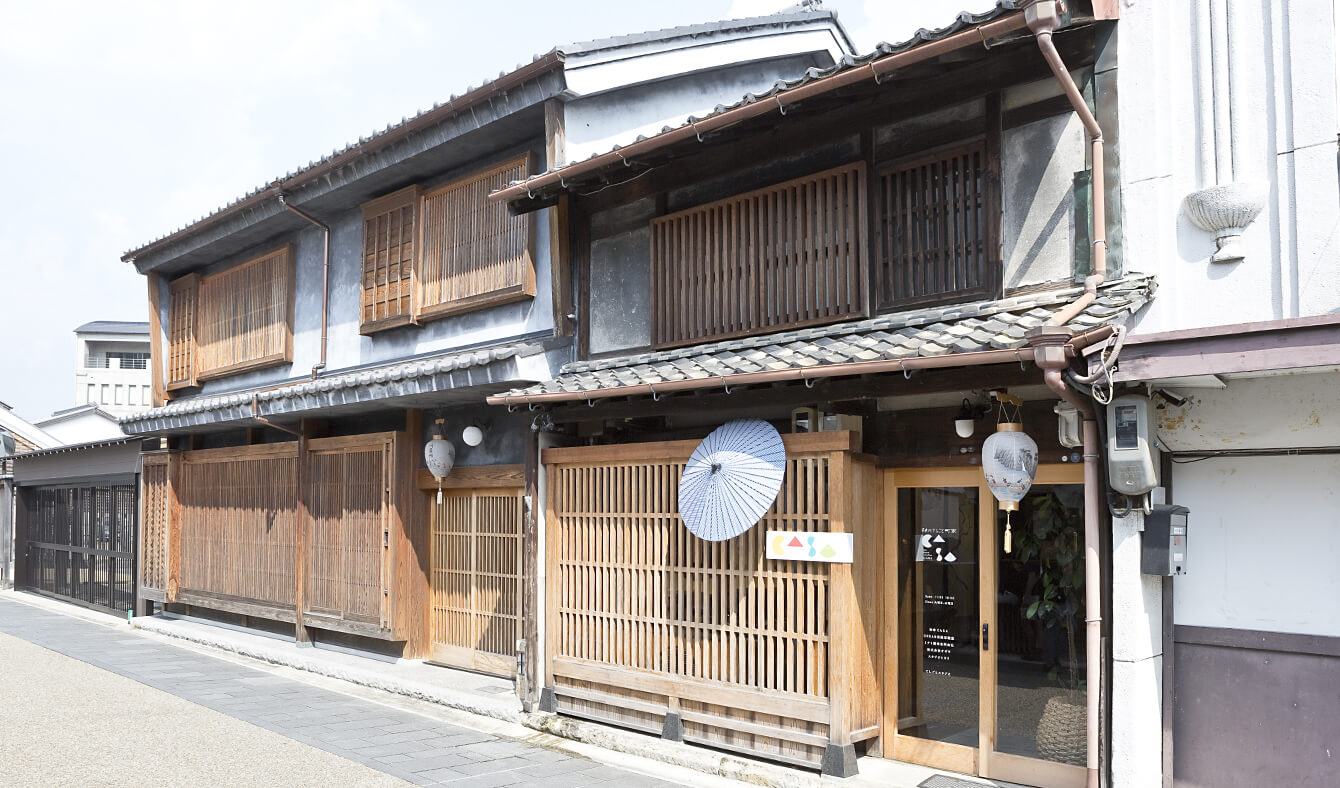 長良川てしごと町家CASAでは、AKARIも展示
世界的な彫刻家のイサムノグチが、1951年岐阜の川原町に来訪。岐阜提灯と出会い、1時間で4つのスケッチを描き上げる。それは、今までになかった斬新な提灯のデザインだった。AKARIと名付けられたその提灯は、株式会社オゼキで製品化され、今もそのままのデザインで柔らかい光を放っている。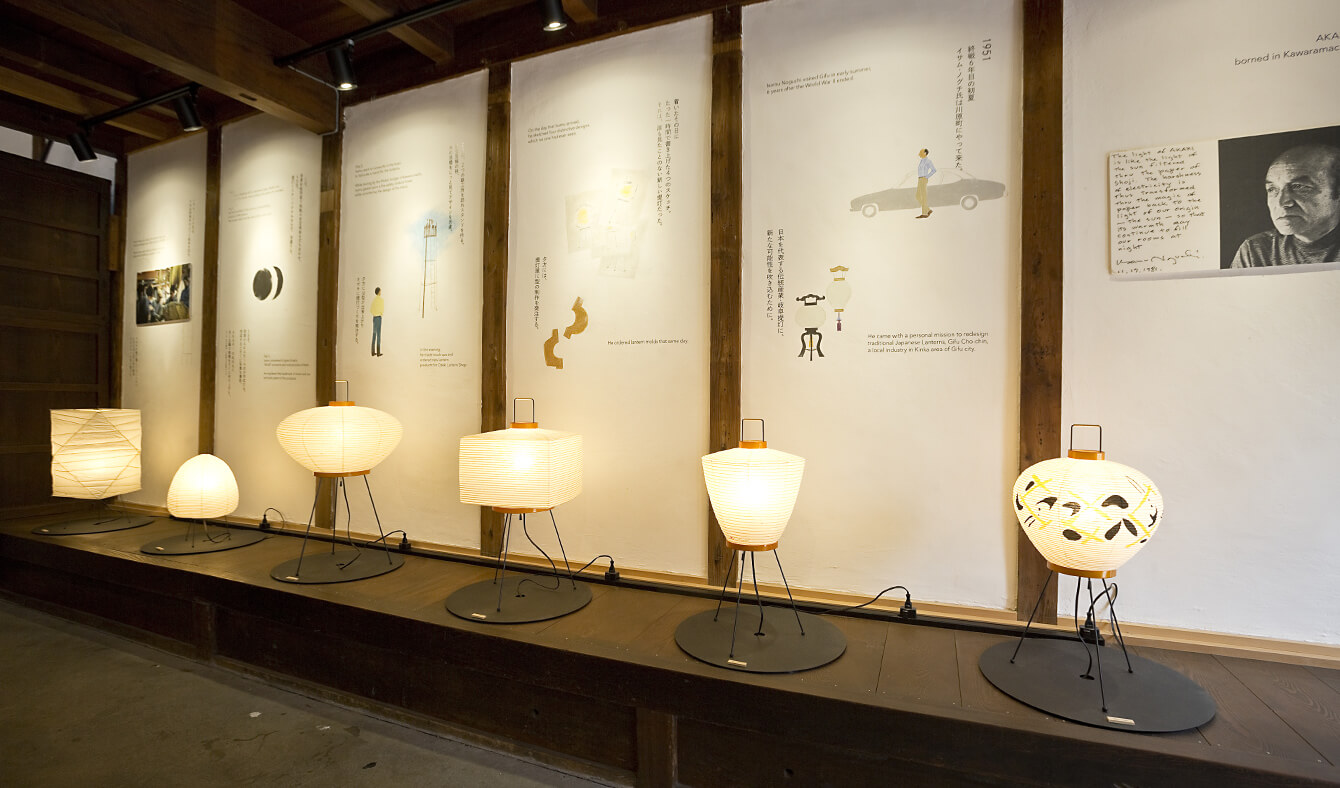 この記事を